Mentoring Program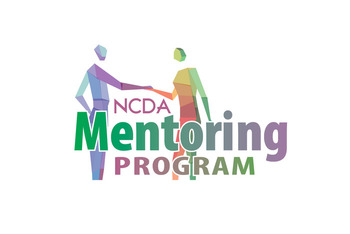 The NCDA Mentoring Program is a pilot program approved by the NCDA Board for the 2022-2023 fiscal year. Member participation will support the connections that are valuable to early professionals and experienced professionals alike. In order to learn and grow, we need each other and NCDA.
The Mentoring Program has been designed based on NCDA's mission to provide professional development to inspire and empower individuals to achieve their career and life goals.
NCDA matches professionals in the field of career development, who are early in their own career development (mentees), with seasoned professionals (mentors) in order to provide inspiration and empowerment through meaningful conversations and collaborative goal-setting.
The program is free, yet participants must meet eligibility requirements.
Full details about the program can be found in the Mentoring Program Guidebook.
Purpose and Objectives
The NCDA Mentoring Program is an inclusive, multicultural leadership development opportunity dedicated to early and seasoned career professionals. The intent is to advance the profession through the engagement of meaningful conversations, the achievement of goals, and a shared wisdom that supports continuous career development and lifelong learning. Program objectives are to:
Provide guidance and support to career professionals
Encourage an exchange of ideas, practice and scholarship
Connect members, so as to foster community and longevity with NCDA
Facilitate NCDA's mission of providing professional development
Promote the strategic plan of NCDA.
Benefits of Participation
Mentees:
Improved professional skills, confidence, and career development.
Valuable insights, tips, and resources from established career professionals.
Expanded professional networks.
Fortified connection to NCDA, the premier professional association for those in the field of career development.
Potential progression into leadership roles or other NCDA opportunities, such as committee involvement or the Leadership Academy.
Enhanced quality of professional and personal lives:

Boosts self-esteem, encourages positive risk-taking
Improves awareness and being open to new perspectives
Increases knowledge of trends and resources (e.g., technical tools such as apps)
Reduces stress – you are not alone
Strengthens skills sets and provides alerts to skills taken for granted
Mentors:
Acknowledgment and recognition as a leader in the field of career development.
A sense of fulfillment and personal/professional satisfaction by giving back to the profession - a proud aspect of your professional legacy
Enhanced leadership, coaching, and feedback skills.
Increases social connection / social capital
Continued professional development and learning.

Fosters reflective practices
Encourages an open mind set (versus a fixed mind set)
Exposure to new perspectives, theories, and paradigms through a reciprocal learning environment

Fortified connection to NCDA, the premier professional association for those in the field of career development
Eligibility Requirements
Mentees must be NCDA members in good standing for at least one (1) year, and have 2-5 years work experience in the field of career development. Mentees must apply, using the link below.
Mentors must be NCDA members in good standing for at least five(5) years, have over ten (10) years' experience in the field of career development, and actively serving NCDA or recently served NCDA in the capacity of Board member, commission or council member, or committee chair. NCDA Fellows and Eminent Award winners are also eligible. Mentors will receive an invitation to participate via email.
Mentees and Mentors must be able to commit to the program through September 2023.
Program Structure
The relationship is considered one-to-one mentoring and formal (i.e., with some degree of prescribed structure).
NCDA will contact all participants via email and supply the mentor and mentee with the Program Guidebook, one another's contact information, any other supplemental information provided by the mentor or mentee, and general suggestions for making the most out of their mentoring experience. Mentors and mentees will receive training, orientation, and best practices programs via video conferencing (or recordings) from NCDA.
Mentors and mentees will meet at least every two weeks for the first two (2) months and then monthly thereafter.
Each participant will complete the first feedback form by December 12, 2022 by visiting the NCDA Mentoring webpage. A final evaluation will be due by October 16, 2023.
Read more details in the sections below.
The application to the pilot program has closed.
A future mentoring program decision may not be announced until the end of 2023
Best Practices and Questions
Participants in the Mentoring Program are encouraged to exchange ideas and concerns. Please see the posted ones below.
To add to the conversation, click on "Share a Best Practice or Pose a Question" below. Then click on "Leave a Comment" below to add to the conversation. You must read the "Terms of Use" and check that box before hitting submit. Please do not disclose confidential information in this space, as it is open to the public - see "Safe Conversations" located elsewhere on the Mentoring Program webpage.
Join the mentoring conversation! Leave a comment below.