Details


Larger Image
Career Development for Transitioning Veterans
Author/Editor: Carmen Stein-McCormick, Debra S. Osborn, Seth C.W. Hayden, Dan Van Hoose with Military Consultants: Thomas McCormick, USN (Ret.), Major C. Camille LaDrew, USAF
Publisher:
NCDA
Year:
2013
Manufacturer:
ISBN: 978-1-885333-37-7
The purpose of this book is to increase career practitioners' awareness of the transition issues and resources specific to veterans and to provide several examples of how a practitioner might walk a veteran through the career planning process. Case studies based on interviews with real veterans by the authors and military consultants are used throughout the chapters to demonstrate the thoughts and feelings involved, as well as career practitioner strategies for helping the individual make a career decision.
Categories of Applicability :
Individual/Group Counseling and Facilitation Skills
Career Information Resources/Curriculum/Activities
Program Planning/Promotion/Management/Implementation
Coaching/Consultation/Performance Improvement
Specific Populations
Career Planning and Job Seeking Resources
Work settings:
Post Secondary
Non-Profit
Governmental
Business and Industry
Independent/Private Practice
Read more! Here are links to excerpts from the monograph and a book review in Career Convergence.
And here is another review from the Journal of Employment Counseling.
---
Stock#: 963
Featured Product
A Primer for Instructors and Presenters, 2nd edition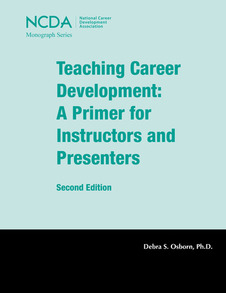 This second edition of this monograph not only provides strategies for delivering key components of career development in enthusiastic, innovative and more meaningful ways, it covers updated standards and new technologies.
An entire chapter offers 50+ active learning strategies useful for beginning and intermediate instructors of undergraduate and graduate career development courses and presenters of career development workshops. Another chapter focuses on teaching online.
The author has taught face-to-face and online university courses for over 20 years and has presented numerous national and international workshops on teaching career development. (Osborn, 2016)
Print or ebook (PDF) on sale October 1-31 for $20.00 in the NCDA Career Resource Store.
Shipping and handling not included.
---
7th Edition, is on sale September 1-30, 2022
The re-imagined 7th edition of our influential guide to career assessment was re-conceptualized and renamed to A Comprehensive Guide to Career Assessment. It contains important information career counselors, educators and practitioners will find invaluable in learning about career assessment and selecting assessments specific to client needs. The print version of the Guide offers six foundational chapters and over twenty instrument reviews. (Stoltz & Barclay, 2019).
Special sale price of $65, for the print book only. Shipping/handing not included. Shop the Career Resource Store now!
---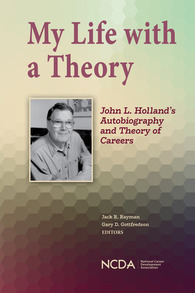 John L. Holland's Autobiography and Theory of Careers
In 1959, John L. Holland introduced a theory of vocational choices involving personality typology (widely known in the career development field as the Holland Code, or RIASEC). Included with this previously unpublished autobiography are book chapters, journal articles and other original source material that will enhance the reader's understanding of both the theory and the scientist. (Rayman & Gottfredson, 2020)
On sale for $55.00 thru July 31, 2022 (shipping/handling not included).
Shop the NCDA Career Resource Store now!