Details


Larger Image
Teaching Career Development
A Primer for Instructors and Presenters, 2nd edition
Author/Editor: Debra S. Osborn
Year:
2016
This second edition of this monograph not only provides strategies for delivering key components of career development in enthusiastic, innovative and more meaningful ways, it covers updated standards and new technologies. An entire chapter offers 50+ active learning strategies useful for beginning and intermediate instructors of undergraduate and graduate career development courses and presenters of career development workshops. The author has taught face-to-face and online university courses for over 15 years and has presented numerous national and international workshops on teaching career development.
Author: Debra S. Osborn

Key Categories:
Career Information Resources / Curriculum / Activities
Technology
Work Settings:
Post-secondary
K-12
Counselor Educator
Read the Review in Career Convergence.
Stock#: 964 Mfr#: ISBN: 978-1-885333-53-7
Publications
Featured Product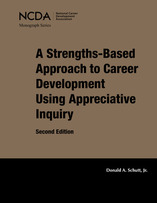 A Strengths-Based Approach to Career Development
Using Appreciative Inquiry, 2nd Edition
On Sale, February 1-29, 2020 for the discounted price of $20.00
(Print book only; shipping and handling charges not included in the sale price).
The Strengths-Based Approach is a way of seeing the world as positive and focuses on building upon strengths rather than on fixing deficits. This updated monograph details the approach and includes activities and a participant guide to move the Strengths-Based Approach to career development into practice. (Schutt, 2018)
Monthly Specials
---
Read More!
Many of our products include links to Book Reviews or Excerpts, which are also archived in our Career Convergence web magazine.