Details


Larger Image
Developing a Helping Relationship
Career Knowledge Series
Publisher:
NCDA
Year:
2015
This topic covers the use of helping skills by the practitioner from the initial intake interview with the client through termination of the relationship. Specifically, you will be able to define and apply the helping skills, construct open- and closed-ended questions and identify a client's needs, strengths, and barriers. In addition, the chapter covers helping clients in establishing long- and short term goals and using this as a foundation of an action plan.
This is one part of a multi-book series which includes 8 titles focused on key career development competencies. Each book is between 30 and 80 pages and can be purchased independently or as a set. Continue shopping to view each one in the series or the whole Career Knowledge Series.
Read more about the "Career Knowledge Series" in NCDA's web magazine, Career Convergence.
Stock#: 803.1 Mfr#: 978-1-885333-47-6
Publications
Featured Product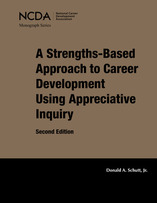 A Strengths-Based Approach to Career Development
Using Appreciative Inquiry, 2nd Edition
On Sale, February 1-29, 2020 for the discounted price of $20.00
(Print book only; shipping and handling charges not included in the sale price).
The Strengths-Based Approach is a way of seeing the world as positive and focuses on building upon strengths rather than on fixing deficits. This updated monograph details the approach and includes activities and a participant guide to move the Strengths-Based Approach to career development into practice. (Schutt, 2018)
Monthly Specials
---
Read More!
Many of our products include links to Book Reviews or Excerpts, which are also archived in our Career Convergence web magazine.