Details


Larger Image
Providing Career Services to Multicultural Populations
Career Knowledge Series
Publisher:
NCDA
Year:
2015
This topic explores key trends and data in America's multicultural workforce and significant legislation that protects specific populations from discrimination. In addition, this topic provides information for recognizing the unique career-related needs and barriers of individuals from different backgrounds. Finally, the topic provides direction in recognizing one's own attitudes toward diverse populations as well as understanding the characteristics of a culturally competent person in working with multicultural populations.
This is one part of a multi-book series which includes 8 titles focused on key career development competencies. Each book is between 30 and 80 pages and can be purchased independently or as a set. Continue shopping to view each one in the series or the whole Career Knowledge Series.
Read more about the "Career Knowledge Series" in NCDA's web magazine, Career Convergence.
Stock#: 803.5 Mfr#: 978-1-885333-43-8
Publications
Featured Product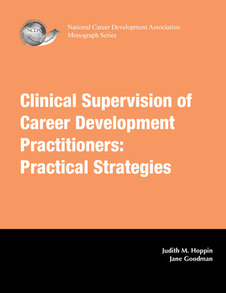 Clinical Supervision of Career Development Practitioners: Practical Strategies
On Sale for $15 until Sept 30, 2020 - both print and ebook!
Shop the NCDA Career Resource Store now!
Monthly Specials
---
Read More!
Many of our products include links to Book Reviews or Excerpts, which are also archived in our Career Convergence web magazine.