Details


Larger Image
ONLINE ACCESS, Facilitating Career Development, Student Manual, 4th Edition
An Instructional Program for Career Services Providers and Other Career Development Providers
Author/Editor: A. Lisa Jordan, Janet N. Marinaccio
Publisher:
NCDA
Year:
2017
Individual Orders ONLY. Order must be made by user to set up online access. Allow 3 days for processing order. A link to the individual email address to secured site will be given by email/receipt for online access. For assistance, please contact, nscrimsher@ncda.org.
The NCDA Facilitating Career Development (FCD) Training is a 120-hour instructional program designed for individuals who assist others with career development. The training has value for both front-line personnel and program administrators in various settings who provide career development services. Course content includes in-depth coverage of the following topics:
The 4th edition contains new material in all sections of the curriculum.
Helping Skills
Career Theories
Career Assessments
Diversity
Job Search Techniques including the use of Social Media
Technology and Career Information
Ethics
Working with Groups
Program Planning and Implementation
Individuals that complete this training are eligible to apply for the Certified Career Service Provider (CCSP) through NCDA's Credential Commission.

Keywords:
Category: Career Development Theory and Models
Category: Individual/Group Counseling and Facilitation Skills
Category: Assessment
Category: Career Information Resources/Curriculum/Activities
Category: Program Planning/Promotion/Management/Implementation
Category: Specific Populations
Category: Ethical/Legal Issues
Category: Technology
Category: Career Planning and Job Seeking Resources
Work Settings: K-12
Work Settings: Post Secondary
Work Settings: Non-Profit
Work Settings: Government
Work Settings: Business and Industry
Work Settings: Independent/Private Practice
Stock#: 20117E Mfr#: ISBN: 978-1885333-57-5
Publications
Featured Product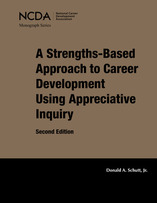 A Strengths-Based Approach to Career Development
Using Appreciative Inquiry, 2nd Edition
On Sale, February 1-29, 2020 for the discounted price of $20.00
(Print book only; shipping and handling charges not included in the sale price).
The Strengths-Based Approach is a way of seeing the world as positive and focuses on building upon strengths rather than on fixing deficits. This updated monograph details the approach and includes activities and a participant guide to move the Strengths-Based Approach to career development into practice. (Schutt, 2018)
Monthly Specials
---
Read More!
Many of our products include links to Book Reviews or Excerpts, which are also archived in our Career Convergence web magazine.