Details


Larger Image
E-BOOK Job Seeking & Employability
Career Knowledge Series
Publisher:
NCDA
Year:
2015
This topic provides a comprehensive resource of assisting or guiding clients in searching for employment. Specific topics include: importance of networking; job search process; effective job search tools; professional presentation through resume, media, email communications, and cover letters; interviewing process; use of social media and personal branding; and the emotional impacts of job seeking. Finally, the topic provides a brief section on workplace-affiliation and job-retention skills.
This is one part of a multi-book series which includes 8 titles focused on key career development competencies. Each book is between 30 and 80 pages and can be purchased independently or as a set. Continue shopping to view each one in the series or the whole Career Knowledge Series.
Read more about the "Career Knowledge Series" in NCDA's web magazine, Career Convergence.
Stock#: 803.7E Mfr#: 978-1-885333-45-2
Publications
Featured Product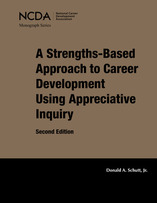 A Strengths-Based Approach to Career Development
Using Appreciative Inquiry, 2nd Edition
On Sale, February 1-29, 2020 for the discounted price of $20.00
(Print book only; shipping and handling charges not included in the sale price).
The Strengths-Based Approach is a way of seeing the world as positive and focuses on building upon strengths rather than on fixing deficits. This updated monograph details the approach and includes activities and a participant guide to move the Strengths-Based Approach to career development into practice. (Schutt, 2018)
Monthly Specials
---
Read More!
Many of our products include links to Book Reviews or Excerpts, which are also archived in our Career Convergence web magazine.