Details


Larger Image
E-BOOK - Clinical Supervision of Career Development Practitioners: Practical Strategies
Author/Editor: Judith M. Hoppin and Jane Goodman
Year:
2014
Authors: Judith M. Hoppin and Jane Goodman
This monograph is an easy and interesting resource to read for anyone involved in the area of career supervision. Whether the supervision is required to meet certification and licensing requirements or for the growth and development of the practitioner, we offer this monograph as an exploration of supervision around career issues, emphasizing specific and additional elements beyond general clinical supervision. The monograph is designed for individuals supervising career counselors, vocational psychologists, career development facilitators, coaches, student affairs personnel working in career services, school counselors in the career aspects of their work, and others engaged in providing career service to students and clients. (2014)
The Table of Contents:
Chapter 1 INTRODUCTION TO SUPERVISION
Chapter 2 SUPERVISION MODELS AND STRATEGIES
Chapter 3 SUPERVISORY TECHNIQUES AND COMMON CAREER PRACTITIONER ISSUES
Chapter 4 ON-GOING SUPERVISION
Chapter 5 ALTERNATE MODES OF SUPERVISION
Chapter 6 ETHICAL AND LEGAL ISSUES
Chapter 7 EVALUATION OF THE PRACTITIONER AND THE SUPERVISOR
References
Appendix A Sample Outline of a Disclosure Statement
Appendix B Sample Template for an Informed Consent Agreement
Appendix C Sample Template for Supervisor Notes
Appendix D Template for Evaluating the Career Practitioner
Appendix E Evaluation of the Supervisor and Supervision
The need for methods of supervision of practitioners has long been discussed. This book is an excellent resource for current and future clinical supervisors in their work with career practitioners.
Read the Review in Career Convergence.
ISBN: 978-1-885333-42-1
CATEGORIES:
Supervision
Individual/Group Counseling and Facilitation Skills
Coaching/Consultation/Performance Improvement
Ethical/Legal Issues
Research/Evaluation
WORK SETTINGS:
Post Secondary
Independent/Private Practice
Stock#: 951.5 Mfr#: ISBN: 978-1-885333-42-1
Featured Product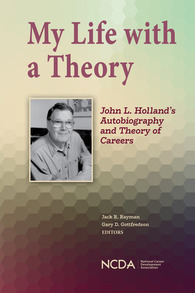 John L. Holland's Autobiography and Theory of Careers
In 1959, John L. Holland introduced a theory of vocational choices involving personality typology (widely known in the career development field as the Holland Code, or RIASEC). Included with this previously unpublished autobiography are book chapters, journal articles and other original source material that will enhance the reader's understanding of both the theory and the scientist. (Rayman & Gottfredson, 2020)
On sale for $55.00 thru January 31, 2024 (shipping/handling not included).
Shop the NCDA Career Resource Store now!