02/02/2023
Mark Pope: 1952-2023
NCDA is sad to announce the passing of Dr. Mark Pope, a true leader and advocate for our association.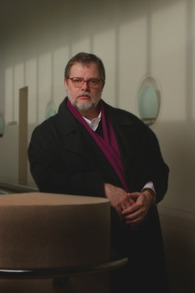 Mark served as NCDA President from 1998-99 and was awarded the highest honor, NCDA's Eminent Career Award, in 2008. He also was involved in many NCDA publications, committees, task forces, and most recently served as the association's parliamentarian for its Annual Membership Meeting.
Mark had a long list of professional accomplishments, most notably as the founder and leading author in the area of cultural diversity issues in our field, especially gay and lesbian career development.
Mark was the Thomas Jefferson Professor and Curators' Distinguished Professor Emeritus at the University of Missouri-St. Louis.
He will be truly missed.
To read more about Mark, see NCDA's Later Chapters Series in which he was highlighted in 2020 or view additional announcements about his awards and honors.
Dr. Mark Pope's Celebration of Life will be held virtually on February 12th, 2023 at 10:00 a.m. (Central Time) - Zoom link:
https://us06web.zoom.us/j/84581315292?pwd=enBiLytWR2cwdE1xYXZQeWVoNHIvQT09
---
Dr. Mark L. Pope, 70, of University City, Missouri, passed away peacefully on Sunday, January 29, 2023, at his home. He was born April 23, 1952, to Isom LaVern Pope and Ethyle Ray Pope. He is survived by his loving husband Mario Carlos, his brothers Michael Pope (Gwen) and James Pope; Douglas (Debbie) Pope (deceased); five nieces, nephew, and 14 great nieces and nephews.
Dr. Pope served as chair of the Department of Counseling and Family Therapy from 2006 - 2016. He was a Curators' Distinguished Professor Emeritus in the Department of Education Sciences and Professional Programs in the College of Education. He spent more than two decades at the University of Missouri – St. Louis, beginning in 1997 and continuing until his retirement in 2018, and was widely considered to be one of the founders of and leading authors in the field of cultural diversity issues in career counseling and career development, especially gay and lesbian career development. He received several accolades in the field of mental health for his leadership, scholarship, and teaching. The role he was most proud of was one of a mentor to his students and colleagues. In 2018, the University of Missouri System presented him with the prestigious Thomas Jefferson Award, the highest award that any faculty member may receive.
Dr. Pope held significant national offices in several professional associations, including as president of the National Career Development Association from 1998-99, the American Counseling Association from 2003-04, and the Society for the Psychological Study of Lesbian, Gay, Bisexual, and Transgender Issues from 2010-11. He was also a fellow of several major professional societies, including the American Counseling Association, three divisions of the American Psychological Association (Society of Counseling Psychology, Society for the Psychological Study of Culture, Ethnicity, and Race, and Society for the Psychology of Sexual Orientation and Gender Diversity), and the National Career Development Association.
Early Accomplishments:
Mark was selected as a distinguished scholar for the Summer Institute of Mathematics and Science Scholars at The University of Missouri, Columbia in 1968, and was the president of the Missouri State Beta Club, and the valedictorian of the graduating class of the Fisk-Rombaur High School in Fisk, MO in 1968-69.
He was the Legislative Vice-President of the Student Government Association at Mizzou as an undergraduate, and he successfully coordinated the lobbying of Missouri legislators for the 18-year-old right to vote during The Vietnam War.
Mark has three degrees, two from The University of Missouri:
- Bachelor of Arts in Political Science and Sociology (Mizzou)
- Masters in Counseling and Personal Services (Mizzou)
- Doctor of Counseling and Educational Psychology (University of San Francisco, CA)
Dr. Pope was an Elder of the Saint Francis River Band of Cherokees. He also served as the Director of Psychological Services for the American Indian AIDS Institute and the Native American AIDS Project in San Francisco.

In lieu of flowers or gifts, donations can be made to the following organizations: Lymphoma Research Foundation (Mantle Cell Lymphoma) or the American Cancer Society in honor of Dr. Mark Pope.
---