11/01/2022
Happy National Career Development Month!
Happy National Career Development Month!
November marks the special month when NCDA celebrates National Career Development Month through a series of career-related activities. We are excited to host the National Poetry and Art Contest highlighting "Career Development Across the World: Making Connections and Increasing Access to Impact the Global Labor Market!" We urge all members to get involved and submit entries for this national contest!
New this year is an exciting global collaboration, sponsored by the Inter-Agency Working Group on Career Guidance entitled, Global Careers Month. NCDA has joined with the Canadian Career Development Foundation (CCDF) and the Canadian Education and Research Institute for Counselling (CERIC), as North American partners, to sponsor a Global Career Social Media Campaign! We have included an information invitation below from our three organizations:
I am reaching out to you as influential individuals and organizations in the career development field, hoping you'll be willing to Amplify and participate in the first-ever Global Career Month. For the North American contribution to Global Career Month, CCDF, CERIC and the NCDA are co-hosting a social media campaign called Career Development Changes Everything this November.
The goal of the #Amplifier2022 campaign is to flood the internet with posts that shine a spotlight on the meaning, impact and value of career development. We hope this raises awareness among the public and deepens our field's sense of unity and pride.
Where you come in ...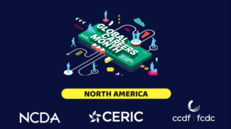 Please share the following materials (in both English and French) with your networks:
Global Career Month images and verbiage for your website and e-communications, plus a one-page promotional flyer
Tailored social media messages (e.g. sample tweets, images, links) for you to post online
All materials can be accessed here: https://careermonth.ca/global/#organizations
In addition, I'd encourage you and your staff to participate in the campaign as well. Contributors to the Career Development Changes Everything campaign will be entered into a giveaway with gifts and opportunities for publicity from the CERIC, the CCDF and NCDA.
Be sure to check the Global Career Month website for North America for more prompts and to enjoy the career development amplifier stories: https://careermonth.ca/global/
Thank you for your support!
Warm regards,
RIz Ibrahim, Sareena Hopkins & Deneen Pennington
CERIC, CCDF & NCDA
---
We hope you will submit your videos and/or text to Amplify career development services! Winners may earn gifts such as conference registration waivers or invitations to guest spots on NCDA's podcast. We want to see your submission in the Amplifier Website!
---
And don't forget NCDA's Virtual NCD Month Celebration on November 16th! For more information and to register, visit www.ncda.org
---