01/06/2020
NCDA Webinar Series opens January 28, 2020
All Hands on Deck: Preparing Students for the Future of Work by Building Partnerships with All Stakeholders
NCDA presents several webinars each year on topics of deep significance to members and those involved in the field of career development. The first webinar in 2020 is
All Hands on Deck: Preparing Students for the Future of Work by Building Partnerships with All Stakeholders
Presented by: Rebecca Dedmond and Steven Myers

January 28, 2020
2:00-3:00pm (Central Time)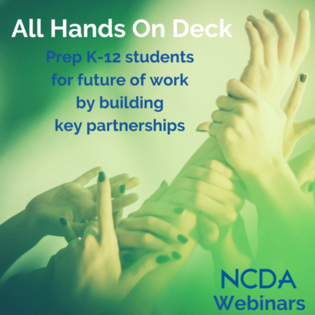 Please register for the event by clicking on the Professional Development tab, then Webinars.
Archived Webinars (listed on the same page but without dates) are previously recorded and available for viewing anytime, at your convenience.
Earn Continuing Education Credits by watching NCDA Webinars. Each are $35 and include 1 contact hour. Simply view the webinar and register online to obtain your certificate.
All webinars are copyrighted by NCDA - please view our Legal Disclaimer.
Questions? Contact acheek@ncda.org
---