Introduction to Credentialing
NCDA offers diverse, high quality competency-based credentials that effectively uphold NCDA's standards and ethics.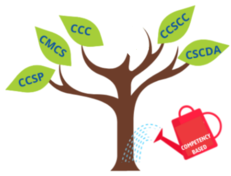 What is a credential? A credential represents a formal validation of an individual's qualifications and professional competency in a specific industry.
What is the value of a credential? An industry certification ensures that you are proficient in a field, while allowing you to enhance your professional brand. By promoting your credential to organizations, your peers and the public at large, you are able to present your base of knowledge, skills and experience to those you serve (students and clients).
The Credentialing Commission has declared the following benefits:
Supports your professional brand and profile in the field of career development

Formal validation of your professional background and qualifications
Highlights your strengths and expertise as a practitioner, educator and/or supervisor
Portable, national competency-based credential, that reaches beyond a certificate of training
Provides credibility and transparency for heightened consumer confidence
Built upon rigorous quality standards, scope of practice and ethical guidelines
Supports core standards of practice for practitioners and consumers
NCDA offers support for credentials via research, advocacy, and continuing education.
How do you choose a credential?
READ MORE about NCDA Credentials in NCDA Publications:
ANNOUNCEMENTS:
The system generates automatic emails to inform applicants and holders about their status. Please check your spam folder to see if your messages are there. If you are not receiving credentialing messages, please contact us.
Continuing Education Providers may now apply to be listed in the NCDA Directory of Select CE Providers
DOCUMENTS:
Commitment ~ Competency ~ Certification