08/01/2022
Understanding the Needs of First-Generation Professionals
By Amanda Carcione
Over the years, colleges and universities have worked to improve support services for first-generation college students to improve retention and completion rates. As these students graduate and enter the workforce in growing numbers, various industries have also begun to develop initiatives to support graduates as they enter the professional world. Upon entrance into the workforce, these professionals are often referred to as first-generation professionals (FGPs) and are defined as individuals moving up the socioeconomic ladder from "working-class roots to white-collar professions" (Burwell & Maldonado, 2022).
Specifically, the U.S. Department of Commerce has created an FGP initiative which offers webinars and workshops related to networking, financial literacy, personal branding, and panel discussions with other FGPs (Agramonte, n.d.). While other industries have shown interest in structured support for FGPs, including utility and finance companies, federal agencies seem to be leading the way in this arena.
Challenges
Many FGPs face challenges like those they encountered as first-generation college students, only now they may find themselves without access to the various supports as they navigate their first professional positions. By gaining a better understanding of what these challenges are, career development professionals are in a unique position to fill this gap in support for those identifying as first-generation professionals. While there is little research on what the transition into the professional world is like for FGPs, the following areas were frequently identified in the literature that is available.
Lack of familial support
FGPs often do not have access to a trusted adult who can help them navigate different professional situations (Kelly, 2019). Multi-generational professionals may have a parent or family member who is also in a white-collar profession, providing a support opportunity when learning to navigate early on in their careers. An example of how this might play out in the workplace could be in team meetings where a new professional may see workplace politics beginning to unfold. Someone who has family or parents with professional positions can talk about that experience and get feedback on how to handle it.
Understanding and navigating workplace culture
As the first in the family to hold white-collar positions, FGPs are often left to learn workplace culture and how to navigate a career ladder on their own. This understanding also impacts FGPs as they learn to navigate authority structures of an organization and develop appropriate communication protocols in-line with the culture of a workplace.
An additional challenge that arises related to navigating workplace culture is authenticity and feeling the need to code-switch when in their professional setting. Code-switching can generally be defined as the perceived or inherent need to alter one's speech, appearance, behavior, or expression to align with cultural norms (Stitham, 2021). For example, some FGPs feel the need to adapt their communication style or appearance to fit in at work (Burwell & Maldanado, 2022). However, the ability to understand the need to code-switch also assumes FGPs know enough about the culture to adapt the same practices. For those that may be unaware, access to career opportunities and social stability can be significantly hindered.
Lack of established networks
The factors impacting success are viewed differently by first-generation and multi-generational professional families (Terry & Fobia, 2019). For FGPs, their families often placed a focus on hard work and education to rise up the socio-economic ladder. Families of multi-generational professionals tend to focus on education and networking for success. This lack of focus on networking can put FGPs at a disadvantage as they may not participate in student or professional organizations to help them connect. These missed opportunities can impact the development of networking skills and the ability to find professional mentors in their industry.
Ability to participate in professional development opportunities
For FGPs coming from a lower socioeconomic background than their professional counterparts, the ability to participate in experiences such as unpaid internships, or other experiential learning opportunities like study abroad prior to entering the working world, may not have been an option due to limited finances (Terry & Fobia, 2019). Missed experiences can carry over into professional life if an FGP has limited disposable income and is unable to participate in professional development opportunities such as professional conferences, further training for advanced positions or certifications. Additionally, as new professionals they may not be aware of the development opportunities that are available or the financial support an organization might be able to provide for their employees interested in such opportunities.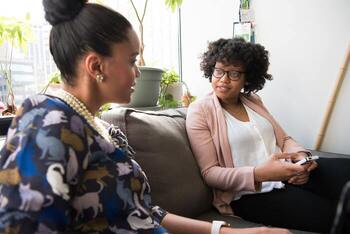 Ways to Support First-Generation Professionals
Career practitioners can provide opportunities for new FGPs to make connections and learn how to navigate a new career through the following:
Encourage involvement in Employee Resource Groups or Internal Employee Networks. Employee resource groups are groups that bring together people with a shared characteristics such as race, age, culture, or first-gen status. For more details information on Employee Resource Groups, see the article, The Importance of Internal Employee Networks in Career Development by Melinda DiBenedetto
Have discussions with clients or offer workshops and training that address the following areas:

Dealing with Imposter Syndrome, defined as a "persistent fear and false belief of being incapable or unworthy of success or potential despite noticeable accomplishments suggesting the contrary" (Tsai, 2019, para. 1)
Negotiating Salaries and Promotions
Strategies for Career Advancement and Communication
Finding a Mentor

Guide your clients to make connections within their company or organization. This can be with senior colleagues or even HR professionals who can provide insight into professional development workplace culture and networking opportunities.
By providing support specific to the challenges discussed, such as lack of familial support, established networks and understanding and navigating workplace culture, career development professionals can help improve the experience of FGPs as they begin their professional careers. Improving the experience is critical to bringing down these potential barriers to workplace inclusion, providing for a more authentic and diverse working environment.
References
Agramonte, T. (n.d.). First generation professionals (FGP) initiative: Designed to unlock and unleash FGPs' full potential. Department of Commerce. https://www.hud.gov/sites/dfiles/ED/https://www.ncda.org/aws/NCDA/am/gi/6.7.18-FirstGenerationProfessionalInitiativeGeneral20Oct20171700hrs.pdf
Burwell, M., & Maldanado, B. (2022, January 7). How does your company support "First-generation professionals"? Harvard Business Review. https://hbr.org/2022/01/how-does-your-company-support-first-generation-professionals
Kelly, J. (2019, October 28). Class bias: Interviewers will hire and pay more for a job applicant from a higher social class compared to a lower-status candidate. Forbes. https://www.forbes.com/sites/jackkelly/2019/10/28/class-bias-interviewers-will-hire-and-pay-more-for-a-job-applicant-from-a-higher-social-class-compared-to-a-lower-status-candidate/?sh=6f6f0b34471c
Stitham, K. (2021, April 15). Code-switching in the workplace: Understanding cultures of power. Integrative Inquiry. https://www.integrativeinquiryllc.com/post/the-problem-with-code-switching-addressing-the-dominant-culture#:~:text=Code%2Dswitching%20is%20the%20act,do%20in%20our%20own%20homes
Terry, R. L., & Fobia, A. C. (2019, May 1). Qualitative research on barriers to workplace inclusion for first generation professionals. Survey Methodology. https://www.census.gov/library/working-papers/2019/adrm/rsm2019-03.html
Tsai, H. (2019). Imposter syndrome and diverse groups: Impact and implications in career development. Career Convergence. https://www.ncda.org/aws/NCDA/pt/sd/news_article/245005/_self/CC_layout_details/false
---
Amanda Carcione is the director of student engagement and undergraduate administration in the College of Communication and the Arts at Seton Hall University. She earned an M.S. in Communication and a B.S. in Design and Merchandising from Drexel University. Before joining Seton Hall, Amanda was the assistant director for undergraduate education initiatives at Montclair State University where she oversaw the redesign of the university's New Student Seminar course as well as the development of a university-wide advisor training program. With over 15 years of experience in higher education, Amanda is an active member of the National Academic Advising Association, where she is part of the Region II mentoring program. She can be reached at Carcione.amanda@gmail.com
5 Comments
Disclaimer: The opinions expressed in the comments shown above are those of the individual comment authors and do not reflect the views or opinions of this organization.
---