05/01/2022
Digital Communication Tools for a Future-focused Career Development Practice
By Beth Dutton
Digital communication software is changing the way we connect by offering increased personalization, flexibility, convenience, and speed in message delivery. Digital communication is online communication using multiple channels such as video, mobile chat, text, and customer relationship management (CRM) tools. Virtual and augmented reality are examples of emerging technology for human and digital interaction. This article addresses the importance of career practitioners staying current with advances in communications technology and offers examples of tools useful for various aspects of career development client communications.
A Convergence of Factors Pushing Digital Communication
The COVID-19 pandemic accelerated the adoption and use of new multi-channel digital communication tools. A May 2021 Statista study (Sava, 2021) found that companies implemented on average 3.5 new channels in response to the pandemic, with live chat, email, and video being the channels seeing the most increase in use.
Generational preferences have also brought increased use of digital communication. In-person interaction and use of social media (mostly Facebook and LinkedIn) favored by the Baby Boomers, born 1946-1964 (Dimock, 2019), has shifted to multi-media channel communication. Generation X, born 1965-1980 (Dimock, 2019), adopted dramatic technology changes including the internet, email, and mobile phones. Millennials, born 1981-1996 (Dimock, 2019), the first "digital natives," began using technology at an early age and became proficient with mobile communication. Finally, Generation Z, born 1997-2012 (Dimock, 2019), are the most technically advanced, having been born into rapid digitization (Level One, 2018).
Employers have recognized these changes and evolved to offering online and hybrid modes of service delivery to customers or clients and for internal communication across teams, functions, and locations. Changes in digital communication provide opportunities for career development professionals to engage clients in a more dynamic way, adjusting the mode of communication according to generational differences among clients and modeling for clients the communication approaches they are likely to encounter in the workplace.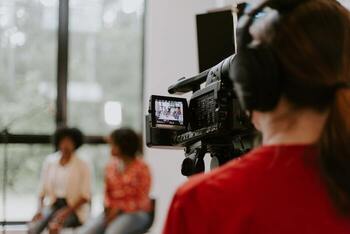 Five Types of Digital Communication to Enhance Practice
Following are five categories of digital software tools with relevance to a career counseling or coaching practice. While each of these can be integrated into practice in a variety of ways, suggestions are offered for the aspects of the client relationship and coaching/counseling process where each tool might be particularly useful.
White Board Videos: This is a form of animation that appears hand-drawn in real time. While these videos have a wide range of uses in a practice, they can be especially useful when onboarding a new client. The animated nature can be a lighthearted way to engage clients early while sharing what could be perceived as mundane information, such as program logistics, "housekeeping details," and expectations. White board videos can be created using software programs with ready-to-edit templates. Once created, the practitioner can share the video with each new client as they are onboarded. Doodly and simpleshow are software programs that create white board videos.
Instructional Videos: Short videos can be created for a variety of career topics such as career planning, resume writing, and interviewing tips. They may also be utilized for marketing purposes and reside on the practitioner's website for potential new clients to learn about services. For example, Powtoon software has ready-made professional templates that make it easy to create an instructional video. Some career coaches are also finding that TikTok's brief video format is an effective way to share "bite-sized" information with clients or the public.
LinkedIn Mobile and Desktop Applications: In addition to being a tool for networking, job opportunities, and career information, LinkedIn can be a key component of a career practitioner's communications channels. Messaging clients active on LinkedIn to share documents, photos, videos, and GIFs, can be a convenient way to stay engaged with clients and provide useful information for the career development or search process. This can also be a way to encourage those who have not been active on LinkedIn to see the value in using the mobile or desktop apps. Turner (2021) covers new features for communicating through LinkedIn, while this LinkedIn guide offers help with customizing messages.
Customer Relationship Management (CRM) Tools: All-in-one CRMs designed for coaches and consultants provide a collaborative suite of tools to manage scheduling and appointment tracking, as well as communicate with clients through chats, phone calls, and virtual sessions. When choosing a CRM, these Evercoach comparison charts can be useful.
Virtual and Augmented Reality (VR and AR) in the Metaverse: The metaverse is shared space that incorporates virtual and augmented reality and the internet. As technology evolves, headsets may be adopted by career practitioners to help clients explore new careers through virtual reality, "hands-on" environments that simulate what it is like to do a particular job. Augmented reality, which uses technology that superimposes an image on a user's view of the real world, is already being used for training in healthcare and other occupations. For clients who want the look and feel of in-person sessions, virtual office settings will continue to provide that personalized setting to connect. Mark Zuckerberg's vision of the Metaverse can help with understanding how professionals might communicate in the future with AR and VR.

Further Resources for the Career Professional
It is not uncommon for career professionals to face challenges with technology, including feeling behind the client's skill level. For this reason, Technology Tips have been included in Career Convergence since 2014. Provided by the NCDA Technology Committee, these technical tips are short lessons on some of the newest technology tools, trends, and apps, and how they can be used by career practitioners in a variety of contexts.
To discover additional tools for various purposes, these lists, reviews, and rankings of platforms and software can be useful:

Digital Communication for Now and the Future
Digital communication provides flexibility and convenience in communication methods, as well as personalization for an individual or group. It has many uses, including onboarding a new client, educating clients, providing tips during the career development process, and streamlining the communication process from start to finish. Some of the tools covered in this article are already widely in use, while others, such as virtual reality, augmented reality, and the metaverse, are ones to keep an eye on for a truly future-focused and innovative practice.

References
Dimock, M. (January 17, 2019). Defining generations: Where millennials end and generation Z begins. Pew Research Center. https://www.pewresearch.org/fact-tank/2019/01/17/where-millennials-end-and-generation-z-begins/
Level One. (2018). Effective communication for every generation infographic. https://www.golevelone.com/wp-content/uploads/2018/03/Level-One-Infographic-Communications-Generations-Final.pdf
Sava, J. (February 21, 2022). COVID impact new and increased use of communication channels, by type. Statista-Global. https://www.statista.com/statistics/1201336/covid-use-adoption-communication-channels/
Turner, K. (2021). 40+ new LinkedIn features for 2021. https://www.linkedin.com/pulse/new-linkedin-features-2021-kevin-d-turner/
---

Beth Dutton, MS in Human Service Administration, has over 15 years' experience in sales and marketing leadership, operations, strategy, talent acquisition, training, and coaching. She has held leadership positions as Executive Director, Regional Director and Vice President of Sales and Marketing in the senior living industry for publicly traded and private companies. Beth became a Certified Career Service Professional (CCSP)in December 2021 and is currently working as Senior Program Manager at Career Source of Central Florida. She can be reached at https://www.linkedin.com/in/bethduttoninspirecoachupskill/
---