10/01/2015
Draw My Life: An Exercise to Help Students Connect with Counselors and Peers
By Trisha Nhu-y Tran
In the digital age, building rapport and connecting with high school students in session is a challenge that counselors must overcome in order to provide effective services. Effective career counseling seeks to motivate students to share their interests and aspirations. It is essential, that counselors understand current generation-unique connections to the digital world (Sawyer & Willis, 2011). Millennials share their interests and aspirations via social media platforms where their stories are featured and re-shared. YouTube provided such platform in 2013 when it featured a series of "Draw My Life" videos online stemming from the meme culture about the importance of story sharing.
With over seven million viewers since its first introduction, "Draw My Life" (DML) is popular among students because it allows them to share their stories, experiences and aspirations toward their future. This exercise depends heavily on the execution of the narrative counseling technique, where the counselor assists students to reframe their story in an insightful and meaningful way (Ricks, Kitchens, Goodrich & Hancock, 2014). As storytelling reduces the stigma associated with counseling services and allows for a free form of self-expression. DML helps users express and share their life with others. DML serves as a powerful tool for narrating the student's personal story. The exercise helps students reflect on their own experiences, draw out their interests, and acknowledge their progress toward their futures. With its popularity and common recognition among students, this article introduces the exercise to the school setting to foster students' creativity and inspire them to share their own stories, oftentimes a difficult task for students. Below are the steps to implement the exercise in a group setting in high school.
3 Step Approach

Step 1: Build and Establish Rapport
Building and establishing rapport with students is the first step in executing this exercise. At this initial step, the counselor can foster the basic effective counseling technique for rapport with a warm, honest and open approach (Johnston & Scales, 1968). Students are helped to understand the instructions, and to feel safe in order to freely participate. Career counselors can demonstrate this step by sharing their own DML illustration while discussing significant events in the drawing. In doing so, the counselor allows students to see the progression of the counselor's interest development and lessons learned which prepares the students to begin the task.
Step 2: Perform the Task
The second step begins by providing students with the following instructions:
Draw where/when you think your life began
Draw events significant to you, including episodes that are most meaningful; for example, draw the event that lead you to where you are today
Draw your favorite sport, hobby, crafts, etc.
Provide students with paper or pen; allow enough time for students' concerns to be addressed, and to complete the exercise. Validate students' experiences of engaging in the exercise and encourage them throughout the process.
While completing the drawing, counselor should encourage students to express themselves freely. If, students complain that they don't know how to draw, they should be allowed to write words that signify significant events instead.
Step 3: Story Sharing Time
Students now share their drawing with one other. This is the most powerful part of this exercise as students get to share their lives. Students have the opportunity to tell their own stories when they are given this opportunity to share. In addition to sharing their stories, students hear about others stories as well, creating a common empathy and bonds by helping them to establish connection with others (Soucie, Lawford & Pratt, 2012).
Throughout the exercise, counselors are encouraged to walk around and ask questions about students' drawings, the events that are the focus of the drawing, and provide the opportunity for student to share enriching stories with one another. This active process promotes inclusiveness and help students find commonality with peers (Carter et al., 2015). Some students may find this exercise to be difficult and stressful due to unearthing trying life circumstances. In that case, counselors are encouraged to acknowledge students' difficulty and affirm their experience of surviving such events. This creates a sense of control, a powerful growth experience for the student involved. At the end of the exercise, the counselor should then encourage students to draw their dream life. The reason behind this last exercise is the maxim behind "Draw My Life" exercise: if they can dream about their future, they will be able to set their sights on it, and work toward that dream, creating enduring and lasting life interests.
One Example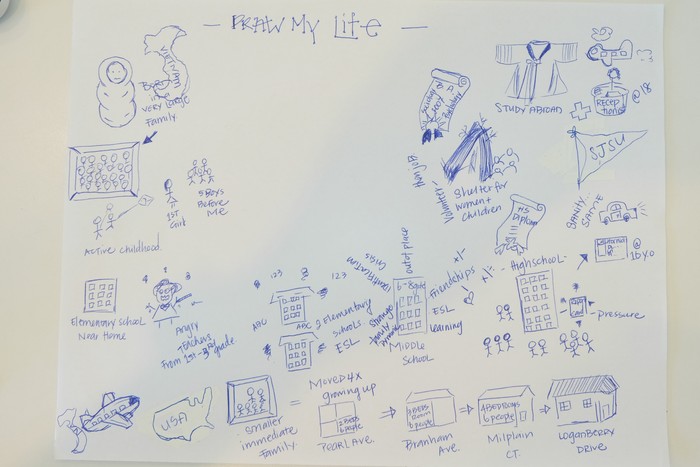 An example of a drawing exercise is illustrated here and consists of drawings of several houses, which demonstrate the amount of time students have moved. Most students chose to draw the schools they have attended and their school performance.

Engage, Acknowledge and Dream
DML exercise helps students forge connection with others, share their stories, and build empathy. Through this exercise, students acknowledge their own stories and significant life events, hear others share their experiences, and see in a concrete way their own journey toward solidifying their goals, dreams, and interest. The optimal goal of engaging students in this exercise is to help them develop the ability to connect with counselors and others in both group and individual session, enhancing the outcome of the group and individual process.
References
Carter, E., Moss, C., Asmus, J., Fesperman, E., Cooney, M., Brock, M., ... & Vincent, L. (2015). Promoting inclusion, social connections, and learning through peer support arrangements. Teaching Exceptional Children, 48(1), 9-18.
Johnston, W. & Scales, E. (1968). Counseling the disadvantaged student. Research studies series. ERIC Clearinghouse. Retrieved from http://files.eric.ed.gov/fulltext/ED034807.pdf
Ricks, L., Kitchens, S., Goodrich, T. & Hancock, E. (2014). My story: The use of narrative therapy in individual and group counseling. Journal of Creativity in Mental Health, 9(1), 99-110.
Sawyer, C., & Willis, J. (2011). Introducing digital storytelling to influence the behavior of children and adolescents. Journal of Creativity in Mental Health, 6(4), 274-283.
Soucie, K., Lawford, H., & Pratt, M. (2012). Personal stories of empathy in adolescence and emerging adulthood. Merrill-Palmer Quarterly, 58(2), 141-158.
---

Trisha Nhu-y Tran, M.A., is a workforce development professional with the WIOA program in the Eastbay Area (CA) currently a Case Manager for the Tri-Cities One-Stop Career Center at Ohlone College District. She provides counseling services to help students and client to reach their true potentials. She works with alternative High School students to prepare them for the workforce. She can be reached at trishatran@ohlone.edu.
2 Comments
Disclaimer: The opinions expressed in the comments shown above are those of the individual comment authors and do not reflect the views or opinions of this organization.
---